Home
Star Lake Tack is a family owned and operated business dedicated to top quality Miniature horse tack at the best prices. For over 20 years we have provided quality tack for the miniature horse enthusiast. We are located in Pennsylvania, but our mobile tack trailer travels to over 20 shows a year, including AMHR Nationals, AMHA World, and the Pony Congress. We know what our customers want and need from out many years of experience showing and breeding National and World Champion halter and Driving horses. Feel free to contact us with any questions you may have about anything miniature horse related!
The number one source for miniature horse tack and equipment. We specialize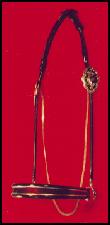 in everything for the miniature horse from: nylon halters and leads, blankets, harnesses, carts, bits, books and videos, saddles, and stable supplies. While we cater to the show world, we are just as happy to assist you with your first purchase for your treasured pet! Service and customer satisfaction is our number one goal. We stock the largest selection of miniature horse tack in the industry, and are proud to offer it to you at competitive pricing. More choice, more value! If you have any questions or can't find what you are looking for just call or e-mail and ask us. Ordering is easy either on-line, phone 724-255-8583. You may order a catalog by phoning or e-mailing.
Your one-stop shop for miniature horse tack. The largest selection of miniature horse tack at the best prices. We use what we sell. Complete customer satisfaction and service. We look forward to hearing from you.
---

Star Lakes Mobile Tack Trailer

---
Western Show lead

6' long 1/2" wide leather lead with stopper has a fancy buckle. Looks great with western stock halters. Comes in black or brown leather
---
Non Pinch Copper Driving Bit

Cheek piece is made of stainless steel. The mouth piece is copper. Sizes available: 3 1/2", 3 3/4", 4"
---
..
Twisted Wire Driving Bit
Cheekpiece is chrome and mouth piece is double copper wire twisted. Sizes available 3 1/2", 3 3/4", 4". Note smaller or bigger available by special order.
---
Slinky Hood
Great for keeping your horse clean. Easy to put on, lycra belly band attaches behind the front legs with velcro. Hoods also have adjustable chin strap that keeps hoods from sliding up. Large eye and ear holes for added comfort. Can be used with slinky body sheet for complete protection.

SLT400A, XS-S, $34.99

Sale $30

SLT400B, M-L, $38.99

Sale $34

SLT400C, XL, $40.99

Sale $35
---
Slinky Tail Sock


Great for keeping those tails clean and silky. After your tail is braided, loop ends through and tie. The lycra is breathable so your tail stays clean and dry.

| | |
| --- | --- |
| SLT 403, $7.99 sale $6.50 | |
---
Winter hood

Made to match the deluxe winter blankets. Since the hood straps behind the front legs there is no need for extra hardware. This hood will work with any blanket. Great for keeping your horse warm. Machine washable. Colors available: red, black, hunter green, royal and purple. Sizes small, medium, and large.
---
What is Quiessence?

Quiessence has also helped horses with thick, cresty necks that were prone to founder, making them easier to manage, ride and handle. Quiessence is a Magnesium and Chromium feed supplement that may help nervous, high-strung, irritable or sore horses. Because Magnesium is important to nerve and muscle function, it may help horses that are tense, spooky and inattentive to attain a more balanced mental state. Feed 1 oz per 250 lbs. body weight daily until improvement is evident. Feed 1/2 oz per 250 lbs.daily for maintenance. Pellets.







| | |
| --- | --- |
| SLT Q14 14 lb Pail $88.00 | |
| SLT Q3.5 3.5 lb tub $26.00 | |
---
Star Lake Farm & Tack
Cathy Waxler
11883 Pleasant Valley Road
Custer South Dakota, 57730
(724) 255-8583
Email: starlakefarm@starlakefarm.com

---