Home
Star Lake Tack is a family owned and operated business dedicated to top quality Miniature horse tack at the best prices. For over 20 years we have provided quality tack for the miniature horse enthusiast. We are located in Pennsylvania, but our mobile tack trailer travels to over 20 shows a year, including AMHR Nationals, AMHA World, and the Pony Congress. We know what our customers want and need from out many years of experience showing and breeding National and World Champion halter and Driving horses. Feel free to contact us with any questions you may have about anything miniature horse related!
The number one source for miniature horse tack and equipment. We specialize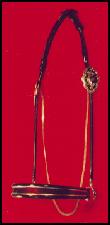 in everything for the miniature horse from: nylon halters and leads, blankets, harnesses, carts, bits, books and videos, saddles, and stable supplies. While we cater to the show world, we are just as happy to assist you with your first purchase for your treasured pet! Service and customer satisfaction is our number one goal. We stock the largest selection of miniature horse tack in the industry, and are proud to offer it to you at competitive pricing. More choice, more value! If you have any questions or can't find what you are looking for just call or e-mail and ask us. Ordering is easy either on-line, phone 724-255-8583. You may order a catalog by phoning or e-mailing.
Your one-stop shop for miniature horse tack. The largest selection of miniature horse tack at the best prices. We use what we sell. Complete customer satisfaction and service. We look forward to hearing from you.
---
Tiffany Large Number Clip


This is the fanciest number clip. Clip is 6" long and concho is 2" Many colors and choice here is some if you are looking for a different color let us know we might be able to do it for you.
Color choice blue, purple, turquoise, clear or black. Can do in a silver or a gold setting

SLT 997, $48.99 Sale $40
Button needs to be blue-silver, blue-gold, purple-silver, purple-gold, clear-silver, clear-gold, black-silver, black-gold

SLT 997 $48.99

Sale $40.00
---
Texas Hay Net

This slow feed hay net is made to our size specifications for miniature horses. It is perfect for hanging in a stall or trailer and keeps them busy longer. The 1" mesh holes slows consumption down to a natural pace. Holds 1 flake of hay. Use with caution with shod animals.

SLT 1613 $25.99

Sale 2 For $49.00
---
Leopard
Black Diamond
Teal
Cashel Crusader fly mask with ears
Made of nylon mesh that blocks 70% of the suns UV rays. Highly rated for its design and comfort. The crusader has a slot for the forelock to pull through which helps keep it in place. Ears are in different patterns Sizes mini

| | |
| --- | --- |
| SLT 640 $28.99 Spec $24.00 | |



---
Embossed Leather Stock Halter With Pewter Buckle
Amish-made leather halter, plain black or brown, or Black with Brown overlay with chrome hardware. Sizes weanling, yearling, adult, x-large. Choice of Nose Band, Small Buckle and matching cheek pieces.

| | |
| --- | --- |
| SLT 280P $99.99 Brown Leather Sale $85.00 | Brown |

SLT 280P $99.99 Black Leather Sale $85.00

| | |
| --- | --- |
| SLT 280P $99.99 Black/Brown OLSale $85.00 | |

Brown

| | |
| --- | --- |
| A | B |
---
What is Quiessence?

Quiessence has also helped horses with thick, cresty necks that were prone to founder, making them easier to manage, ride and handle. Quiessence is a Magnesium and Chromium feed supplement that may help nervous, high-strung, irritable or sore horses. Because Magnesium is important to nerve and muscle function, it may help horses that are tense, spooky and inattentive to attain a more balanced mental state. Feed 1 oz per 250 lbs. body weight daily until improvement is evident. Feed 1/2 oz per 250 lbs.daily for maintenance. Pellets.







| | |
| --- | --- |
| SLT Q14 14 lb Pail $91.00 | |
| SLT Q3.5 3.5 lb tub $28.00 | |
---
Star Lake Farm & Tack
Cathy Waxler
11883 Pleasant Valley Road
Custer South Dakota, 57730
(724) 255-8583
Email: starlakefarm@starlakefarm.com

---